GERPHAS KEYAH OPONDO - REGIONAL COORDINATOR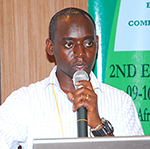 Mr. Gerphas Keyah Opondo is the Regional Co-ordinator and Head of the EANECE Secretariat. He is the Director of the Environmental Compliance Institute. The Institute provides the Secretariat to EANECE. Read More.
MR. ARNOLD WAISWA AYAZIKA EXECUTIVE COMMITTEE MEMBER
Mr. Waiswa is the Director Environment Monitoring and Compliance at the National Environment Management Authority of Uganda (NEMA-Uganda) where his duties include the following: Coordinating and developing Strategic Environmental Impact Assessment (EIA) and sectoral EIA guidelines and procedures; Developing core indicators for environmental monitoring including environment standards; Designing and implementing a training program for Environmental Inspectors; Ensuring compliance and enforcement of standards and regulations; Ensuring mitigation measures are put in place; Overseeing quality control of EIAs among others.
Waiswa has over thirteen years experience in environmental management with emphasis in environmental impact assessment (EIA), Strategic environmental assessment (SEA), Social Impact Assessment (SIA), environmental auditing (EA), cleaner production assessment, development of environmental standards, pollution management and control (air, water and noise), chemicals management and compliance assistance to the regulated communities. Mr. Waiswa was a research officer at the University of Dar-es-Salaam in the Applied Microbiology Unit and also supervised undergraduate students in the areas related to Applied Environmental Microbiology. Mr. Waiswa has been working with the National Environment Management Authority (NEMA) since 1998 where he has been involved in handling various environmental issues.
Waiswa is a Member of various professional affiliations including: the International Association for Impact Assessment (IAIA); International Network for Environmental Compliance and Enforcement (INECE); Eastern Africa Association for Impact Assessment (EAAIA); Community Impact Assessment Network for Eastern Africa (CIANEA) and Nile Basin Capacity Building Network for River Engineering (NBCBN-RE)
Waiswa holds an MSc. (Applied Environmental Microbiology) and a BSc. (Chemistry, Biology & Education) from the University of Dar-es-Salaam, Tanzania. He is also has a Post-Graduate Diploma in Management from the Uganda Management Institute, Kampala. Currently, he is pursuing a Masters of Business Administration at the Eastern and Southern African Management Institute (ESAMI). Waiswa has also attended short professional courses in environmental and social risk analysis; Strategic Environmental Assessment; International Environmental law; Leadership and Team building; Process of Social Impact Assessment; Hazardous Waste Management among others.
BENJAMIN LANGWEN- CHAIRMAN EANECE EXECUTIVE COMMITTEE
Mr. Benjamin Langwen is the current Chairman of the Executive Committee of the East African Network for Environmental Compliance and enforcement (EANECE), a position he has held since May, 2010. Benjamin has a wealth of experience spanning over twenty years in environmental regulatory regimes. He worked for 14 years at the City Council of Nairobi, rising to the position of Chief Chemist in charge of water quality (drinking water treatment and industrial effluent treatment).
Benjamin joined the National Environment Management Authority (NEMA-Kenya) in 2004 as Deputy Director in charge of Compliance and Enforcement and was promoted to the position of Director in 2008. Under his stewardship, the Compliance and Enforcement department has grown from having less than 10 staff to the current level of 32 technical officers. In terms of regulation the departments is currently enforcing seven regulations up from one when he joined the Authority in 2004. Revenue collection from licensing under the regulations has continued to increase from about 50 million Kenya shillings in 2004 to about 202million Kenya shillings in 2010/2011. Benjamin has also overseen the decentralization of processing of Environmental Impact Assessment (EIA) licence applications from NEMA headquarters in Nairobi to the provinces; the establishment of Environmental Police Unit as an addition to NEMA-Kenya's enforcement wing; formulation of environmental regulations and standards as well as guidelines for management of e-waste and Strategic Environmental Assessment (SEA) guidelines.
Benjamin sits in the NEMA Board of Management, besides holding the following positions: Member of the Executive Planning Committee of the International Network for Environmental Compliance and enforcement (INECE) ; Member of the East African Standards Commitee; Council Member of the Occupational Health and Safety Committee under the Ministry of Labour (Kenya); Member of Tobacco Control Board (Kenya) among others.
Benjamin holds a Bsc. in Chemistry from the University of Nairobi and Msc. in Environmental Pollution Control from Leeds University, United Kingdom.
DR. ROBERT NTAKAMULENGA EXECUTIVE COMMITTEE MEMBER
Dr. Robert Ntakamulenga has over 35 years experience in the fields of public health and environmental management. He joined Tanzania's National Environment Management Council (NEMC) in July 2006 as Principal Environmental Management Officer and was promoted to the position of Director, Compliance and Enforcement in July, 2007, a position he holds to date. As Director of Compliance and Enforcement, Dr. Ntakamulenga oversees 16 technical staff and is responsible for all environmental compliance and enforcement matters throughout Tanzania.
Dr. Ntakamulenga's career dates back to 1977 when he started out as a Health Officer in-charge of Ulyankulu Refugee Settlement in Tanzania, later becoming the District Health Officer in Urambo District. Between 1980 - 2005 Dr. Ntakamulenga held various teaching positions in leading institutions in Tanzania, including: Vice - Principal, Health Assistants School, Mpanda; Principal, Vector Control Training Centre, Tanga; Tutor, School of Hygiene, Dar es Salaam; and Part-time Lecturer, Muhimbili University Of Health Sciences.
Dr. Ntakamulenga represents Tanzania in the EANECE Executive Committee and also coordinates the network's activities in his country through the EANECE Tanzania Chapter.
Besides his work, Dr. Ntakamulenga also holds the following positions: Secretary General, Tanzania Health Officer's Association; Member, Environmental Health Practitioners Registration Board; Member, Chemical Emergency Response Committee of the Government Chemist Laboratory Agency ; Member, Chemical Registration Committee of the of the Government Chemist Laboratory Agency; Member, National Advisory Committee on Plague Control; Member, National Advisory Committee on Multi-sectoral Health Policy on the Prevention and Control of Vectors and Vector-borne Diseases; Member, Food Technical Committee of the Tanzania Foods and Drugs Authority; Member, Environmental
Management Standards Divisional Committee of the Tanzania Bureau of Standards
Dr. Ntakamulenga earned his PhD (Environmental Sanitation in the Control of Intestinal Helminths) from the University of Copenhagen in Denmark (2003). He holds an Msc. in Tropical Public Health Engineering from the University of Leeds, United Kingdom. Besides, he holds an Advanced Diploma in Public Health Engineering from Ardhi Institute (now Ardhi University), Dar-es-Salaam and a Diploma in Environmental Health Sciences from the School of Hygiene, University of Dar-es -Salaam (now Muhimbili University of Health sciences), Tanzania.