Environmental crime is a serious and growing concern all over the world. Not only does it harm the environment and human health, but it also often has an impact on the economy and on general quality of life. EANECE's Environmental Crimes Programme creates a forum for diverse stakeholders in the regulatory cycle to discuss and understand the nature, extent and trends of environmental crimes; to understand the challenges faced in enforcing environmental crime laws; and, to come up with common strategies for enhanced cooperation in the areas of information/intelligence sharing, environmental crime investigations and prosecutions.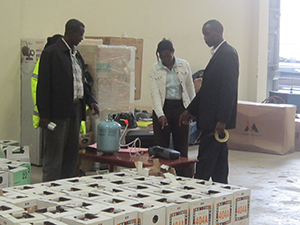 In pursuance of this programme, EANECE held its inaugural Environmental Crimes Workshop in Mombasa, Kenya on 12th- 13th April 2012. The workshop brought together over twenty participants from various government agencies in Kenya including Kenya Wildlife Service, Kenya Forest Service, Kenya Revenue Authority (Customs Department), Kenya Police, Interpol, City Council of Nairobi and National Environment Management Authority.
After two days of presentations and deliberations, the participants were in agreement that environmental crimes are on an upward trend in Kenya, and that several challenges were hindering the implementation and enforcement of environmental crime laws in the country. Based on the challenges identified, the participants came up with a raft of recommendations which, if implemented, will go a long way in curbing the rising trend of environmental crimes.
The proceedings of the workshop and full text of the presentations and recommendations can be accessed here.